Past Life Regression Dallas-SMARTERASP.NET

Are You Ready for Past Life Hypnosis?

Do you have a Fear or Phobia that may a result of a past life?
Would you like to resolve your Fears and Phobias? Could the answer be in a Past Life?
Do your relationships leave you wondering if you have known someone in a past life?
Would you be interested in exploring Past Life Regression to answer questions about relationships in this lifetime?
Do you wonder about your relationships?
Do you know someone who makes you feel strong feelings, feelings that you know go deeper than normal?
Do you have dreams that you suspect may be from a past lifetime?
Would you like to find out what is blocking you and perhaps preventing you from achieving what you desire?
Would you like a incredible, tremendous growth experience?
Have you ever considered retrieving information about your unknown talents and gifts?
Are you interested in having a better understanding about your spiritual path?
Would you like the opportunity to find out more about your Soul Mate?
Do you have an interest in communicating with your Spirit Guide?
Are you ready to discover forgotten knowledge from your previous lifetimes?
Would you like to discover the mystery your Past Lives?
Second Generation Hypnotheapist

Past Life Regression was not uncommon in my home as I was growing up in the 1960's. I learned about Reincarnation and Past Lives from my father at an early age when I watched him guide his subjects into hypnosis and into their past lives as they recalled information from their subconscious mind about previous lifetimes. In many cases these people were able to resolve their Fears and Phobias through Past Life Regression. I also had the opportunity to study Past Life Regression with Dr. Brian Weiss (author of Many Lives Many Masters, Messages from the Masters, Same Soul Many Bodies, Through Time Into Healing, and Only Love is Real) and attended an extensive training course on Life Between Lives Spiritual Regression taught by Dr. Michael Newton (author of Journey of the Souls, Destiny of Souls and Life Between Lives Hypnotherapy) and the staff of The Michael Newton Institute of Spiritual Regression. After three different people mentioned Dolores Cannon to me, I decided that the universe was telling me something, so I traveled to Arkansas to learn Dolores Cannon's Advanced Past Life Therapy Technique.
During your Past Life Regression session your Subconscious Mind will work with you to support your goals around the regression, bringing you back to the appropriate past life that relates to what will be of assistance to you in your current life. You will have the opportunity to learn about your karmic patterns, receive insights into who you are and why you why you are the person you see in the mirror. You may also find that there are certain people in your present life that show up in your Past Lives and may grow into a better understanding of your relationships. As a result you may transform your existing relationships or choose to have more supportive relationships.
Past Life Regression is an extremely dynamic and powerful way to go inside and connect with your inner self and your inner knowing to make positive changes in your modern day life. The fact that we have all lived many different lives in a variety of places and roles has a direct influence on our current life and who we are today. This helps explain why we are drawn to certain cultures, professions, hobbies, people, and relationships. Our soul stores the memories of these life times and we are able to access this knowledge using hypnotic regression. By learning from our Past, we are able to take charge of our desire for evolution and move closer to the goal of achieving our self-mastery.
Past Life Regression sessions are available in my office in Dallas, Texas by appointment only. The session is offered on an individual basis and is client centered in nature, providing you with the opportunity to gain the knowledge of your past lives for yourself. As your Past Life Regressionist, I will be guiding you into Hypnosis and providing the proper questions to you at the proper time in order to help you explore your past lifetimes and gain knowledge and understanding that can offer a unique insight into who you are and why you are here. I have several different Past Life Sessions available, including what I call a curiosity session as well as a more involved session that also allows us to receive answers to any questions you may have about challenges in your life. To find out more, please give me a call so that we can discuss your specific situation and determine which option would be the most appropriate for you and your specific situation.
Fears and Phobias can be resolved with Past Life Regression, Rescripting and Life Between Lives Spiritual Regression. We will work with you to determine the most effective solution to discover the root cause of your issue and use our extensive experience in dealing with Fears and Phobias, Stress and Anxiety as well as other challenges to reach a resolution in a wat that allows you to feel safe, comfortable and secure during the process.
While many of my clients schedule a session in order to resolve a specific issue, others are interested in learning more about the relationships in their current life and others are simply curious about their previous lifetimes. Since I spend time getting to know my clients during the initial phone consultation as well as at the beginning of the session, I have discovered that everyone who has a desire to explore their past lives and follows my simple instuctions is able to access information from previous lifetimes.
Testimonials
My regression was extremely interesting, it was like I was right there. You did such a wonderful job of allowing me explore my past lives, I can't wait to tell my friends about this experience.
T. James - Dallas
Truly amazing! Incredible! It is difficult to put my feelings into words. My fear of heights is finally gone after my past life regression session. It was such a wonderful experience, and I would not hesitate to schedule another regression session. Thank you, thank you, thank you!
P.L. - Dallas
FREE

Self Hypnosis

eBOOK!
Past Life Regression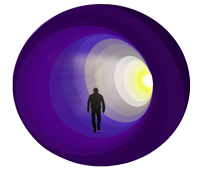 Mark V Johnson
Clinical Hypnotherapist
Dallas, Texas
Call Mark today to schedule your
Private Past Life Regression Session.
Office: 214-432-6624